Back to Blog
Back to Blog
Your Step-by-Step Guide to Selecting and Integrating AI Solutions into Existing Dealership Systems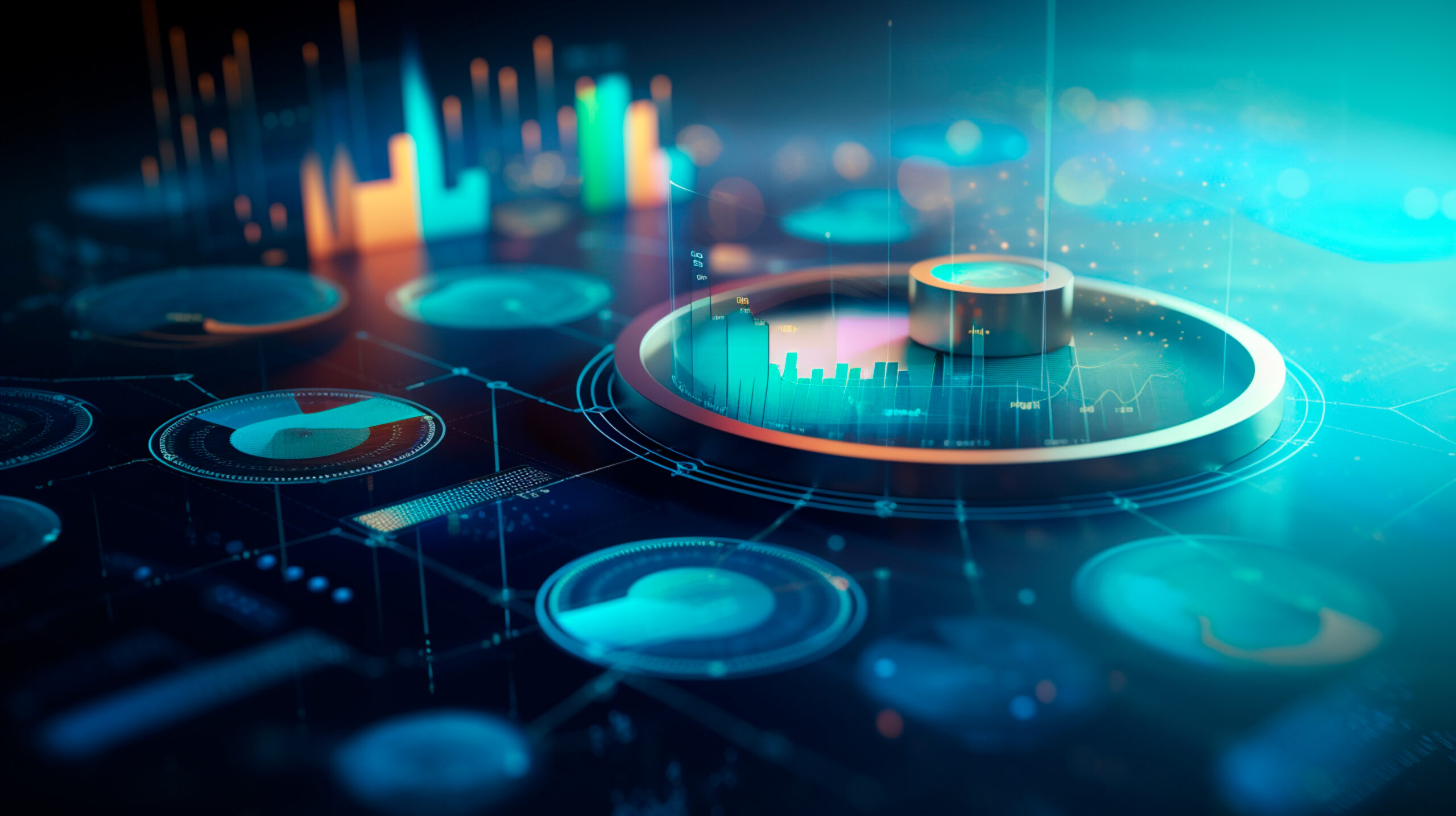 Artificial Intelligence (AI) for automotive dealerships has quickly become an essential tool for any dealer looking to stay ahead of the competition in the digital age. Implementing AI-powered solutions has helped thousands of dealerships transform their businesses by improving operational efficiency, providing exceptional customer service, and driving sales and profitability over time.
In this blog we will explore the potential impact of incorporating AI solutions on your dealership business goals and provide practical steps for how you can seamlessly integrate this groundbreaking technology into your daily operations, ensuring that you stay at the forefront of the evolving automotive market.
AI Use Cases in Dealerships
There are a variety of AI-driven technologies that can enhance your dealership operations and provide an improved customer experience:
Machine Learning:
Machine learning algorithms can help your dealership by predicting customer preferences. By analyzing large sets of historical dealership data, AI can provide forecasted insights into customers' projected behavior allowing you to adjust your marketing strategy to support those behaviors, optimize your pricing strategy based on economic trends, and streamlining your inventory decisions based on predicted customer preferences.

Natural Language Processing (NLP):
AI-powered chatbots leverage Natural Language Processing (NLP) technology to understand and respond to customer inquiries in natural conversation, enhancing communication and support. AI-powered chatbots have proven to be an effective customer experience and sales tool as they work around the clock to provide instantaneous, highly detailed replies to incoming questions.

Marketing Automations:
AI-driven marketing tools leverage dealership data to gain a deep understanding of a customer's preferences and needs. AI then uses that information to automatically craft tailored, personalized marketing materials and messaging for that individual customer based on their latest dealership engagements, maximizing the effectiveness of your marketing campaigns.
These powerful technologies have immense potential when it comes to taking your dealership to the next level. Consider the benefits implementing these AI solutions bring to the table:
Improved Customer Experience:
AI-powered chatbots provide immediate responses, enhancing customer service and engagement while AI-driven marketing can hyper-segment customers based on their preferences and behavior, delivering personalized offers that speak to your customers needs. Excellent customer service combined with targeted, personalized marketing results in improved customer sentiment that can drive sales and loyalty for your dealership.

Increased Operational Efficiency:
AI streamlines inventory management, automates routine tasks, and optimizes appointment scheduling. By automating simple, repetitive tasks at your dealership, you can free up your team for more complex and important tasks leading to improved efficiency that ultimately reduces costs.

Data-Driven Decision-Making:
AI analyzes your dealership's customer data to identify trends, predict demand, and draw attention to areas for improvement at your dealership. With these insights in hand, you can move forward and make informed, data-driven decisions that reduce waste, drive sales, and improve your overall business operations.

Optimized Marketing Spend:
AI-driven marketing platforms enable you to use customer data to create hyper-segmented audiences for your ad and email campaigns based on shopper demographics, preferences and behavior. This ensures your advertising efforts meet the right customers at the right place at the right time – every time, so you get the highest possible Return on Investment (ROI) for your marketing dollars.
AI solutions for car dealerships have proven themselves the perfect partner for dealers looking to create more resilient, lasting business by reducing costs, improving efficiency and driving customer loyalty.
Assessing Your Car Dealership Needs
The best place to start when considering implementing AI at your dealership, is to take a hard look at your business and understand the challenges you are facing so you can identify which AI solutions would be the best fit. Your challenges may lie in inventory management, optimizing your sales funnel, improving your marketing ROI or upgrading your overall customer experience and customer journey.
Once you have identified the areas you want to improve at your dealership, your research process begins. This is where you start to examine the AI-powered solutions available for automotive dealerships and consider which vendors offer the tools you need to improve your identified areas for improvement. Choosing the right technology and right vendor is a critical part of ensuring successful implementation and performance at your dealership.
When researching AI solutions, it is important to understand the full scope of the capabilities offered for the price presented. You want to be sure that you are purchasing the package that makes the most sense for your dealership within your budgetary constraints. Be aware of possible hidden setup or customization fees that may increase the price.
You should also take the scalability of the AI technology you are purchasing into account before closing with a particular vendor. AI shouldn't hinder your progress – it should support and bolster growth for your dealership. Ensure your package includes product upgrades and maintenance over time so the technology will support you properly over time.
Building a Data Strategy
One of the most critical and foundational pieces to ensuring the success of your chosen AI solution is data. AI is only as good as the data it is trained on so you want to ensure your dealership's data set is clean, accurate and well maintained before introducing it to the AI. This requires developing a data strategy for your dealership that covers critical factors like collecting, validating, storing, and maintaining your data along with data security considerations so your dealership can keep your customer data safe and secure.
A Customer Data Platform (CDP) can be helpful in preparing your dealership for AI implementation. CDPs are a state-of-the-art technology designed to unify, clean, manage and protect your dealership data in one centralized platform. CDPs are, at their essence, a built-in data management strategy that can be easily implemented at your dealership and – as an added bonus, they come with high levels of security so you can rest assured that your data is well protected and secured before you onboard your AI solutions.
CDPs also offer important data analysis capabilities that, when combined with AI, can take your data strategy to a whole new level. CDPs leverage your data to develop 360 degree shopper profiles of your customers based on every interaction or engagement they have with your dealership over the course of their shopper journey. These shopper profiles offer important insights into customer preferences, needs and behaviors which, when combined with AI, can help your dealership create deeply personalized customer experiences and data-informed marketing, operational, and inventory strategies.
Choosing the Right AI Solution(s) for Your Dealership
There are many AI solutions available for dealerships at various price points, all serving different purposes to help you achieve your goals:
Smart Chatbot Integrations:
AI-powered chatbots are invaluable in providing round-the-clock immediate responses to customer inquiries, scheduling service appointments, and providing shoppers with dealership and vehicle specific responses to their questions, helping guide them through their car-buying journey.

Inventory Management and Pricing Optimization Tools:
Inventory management tools powered by AI and machine learning, analyze dealership and market data which can help you optimize vehicle pricing and manage inventory more efficiently.

Predictive Analytics Integrations:
Software solutions leveraging predictive analytics can be used to present website shoppers with relevant offers and vehicle suggestions based on their previous engagements with the dealership, increasing the likelihood of conversion. Predictive analytics are also helpful in forecasting customer demand, allowing your dealership to adjust your inventory and marketing strategies accordingly.

Marketing Automation Platforms:
AI-driven marketing platforms are designed to help dealerships leverage their data to create hyper-personalized marketing campaigns, from digital ads to emails, for every shopper. These tools segment customers based on their preferences and automatically generate content that includes relevant offers and promotions. These tools can also help optimize your marketing performance by monitoring your ads around the clock and making budget shifts cross-platform to better support lead winning campaigns.

Lead Scoring and Sales Prediction Tools:
AI scoring tools can help streamline operations and increase sales by analyzing leads and customer data to identify high-quality prospects, enabling your sales team to prioritize their efforts effectively.

Service and Maintenance Predictive Tools:
Predictive maintenance software uses AI to anticipate vehicle maintenance needs, allowing your dealership to offer proactive service solutions.
All of these tools and more can have a deep impact at your dealership, as long as you have selected the right solution and, almost as importantly, the right vendor partner to support you.
When choosing an AI vendor, you may want to consider several factors:
Reputation:
Speak to your peers at other dealerships who have used the vendor you are considering. For dealers who have experienced poor vendor relationships in the past, you will understand how important it is for the vendors you choose to have a positive reputation and name in the industry. You want to ensure that when you bring them in, they will treat you properly with the highest standards of respect and professionalism.

Customer Support:
Excellent customer support and service is key in ensuring that your dealership will get the most value out of your chosen AI solutions. Be sure to investigate the support options offered by your chosen vendor, their availability for you as a customer, and how they communicate and respond to incoming inquiries (email, phone, live chat support, etc.).

Implementation and Training:
Whenever you introduce a new technology at your dealership there is bound to be a learning curve. Consider the education and training options offered by your chosen vendor and the support they offer through the implementation process and beyond.

Clear Data Analytics and Reporting:
When you are spending good money on new technology, you want to know it is working. The right vendor will provide you with clear, understandable, trackable data reports that will allow you to monitor and analyze the impact of the AI on your stated goals.
Careful selection of the right tools and the right vendors will help insure your AI solutions will help drive you forward towards achieving your business goals. Check out how implementing the right solutions helped these dealerships win more sales, improve operations, and drive customer loyalty:
The team at Ardmore Toyota leveraged an AI-powered Customer Data and Experience Platform (CDXP) to create hyper-personalized marketing campaigns for every CRM lead at scale. Those campaigns successfully engaged 40,900 dead leads, turning 11,400 of those leads into active shoppers resulting in 94 sales for a total of $2.4 million, bringing in an entirely new stream of revenue for the dealership. Read more here.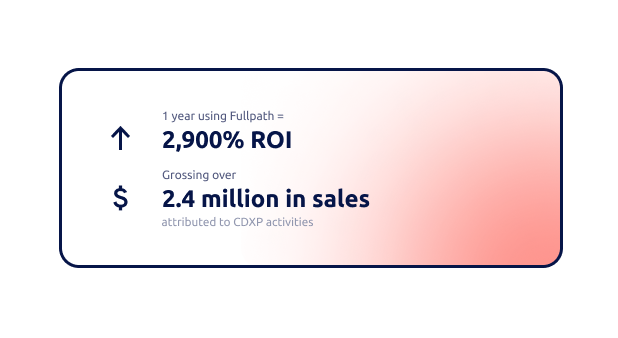 Sick of frozen capital and hemorrhaging money at auction, Mt. View Chevrolet implemented a specialized AI for VIN-level marketing at their dealership to drive shopper-quality traffic to at-risk VDPs. In just 2 weeks, the dealership saw a 170% increase in VDP views with a 145% increase in active shoppers. Read more here.
By leveraging an AI-powered email marketing & lead nurture solution, Szott Ford successfully re-engaged 7,496 leads that were previously marked as lost or dead in their CRM and turned 958 of those leads into active shoppers that lead to 9 sales in just 6 months. Read more here.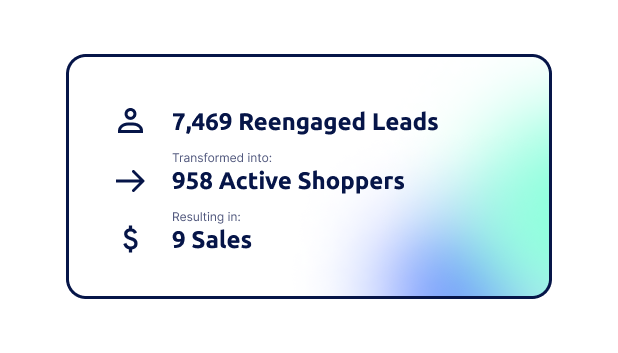 Read more AI integration success stories here.
Step-by-Step Guide to Implementing AI Solutions for Dealerships
Setting yourself up for success with AI starts at day zero. Consider following these simple steps for a seamless integration process.
Create a Detailed Implementation Plan:
It is important to understand what implementation will look like at your dealership. Set clear milestones for yourself to make sure you are reaching your objectives along the way.

Collect and Prepare Your Data:
Data is the lifeblood of AI. Ensure you have a data management strategy in place – one that covers all customer data, sales history, and inventory details. Clean, organize, and prepare your data for AI analysis.

Offer Staff Training and Development for AI Adoption:
As is true for most dealerships, your team is likely new to the world of AI. Ensuring they understand how to use it and make the most of it is critical to successful integration. Offer training opportunities for your team so you can show them the ins and outs of the software and explain how they can leverage the features to enhance performance within their positions.

Collaborate with AI Vendors for a Seamless Integration Process:
Speak to your vendor to determine exactly what they will need from your side to complete the implementation process. If you are integrating AI with other technologies at your dealership, speak with those providers as well to determine what will be needed from their side. This is a critical step in gauging how long implementation will take and to keep you aware of any potential downtime in your existing solutions so you can plan ahead.

Establish Regular Monitoring Processes:
Establish protocol at your dealership for regular monitoring and maintenance to ensure the AI solutions are working as expected. Track key performance indicators (KPIs) related to your objectives, such as customer satisfaction, inventory turnover, or marketing ROI. This process will help you identify performance issues quickly and identify areas for improvement over time.

Get Employee and Customer Feedback:
Once the AI solution implementation has been completed, schedule a milestone date where you can collect feedback from employees and customers about their experiences with the AI systems. Use this input to make necessary improvements and refinements in the way the AI is operating.

Scale and Expand:
As you gain confidence and see positive results, consider expanding the use of AI in other areas of your dealership. Explore new AI technologies and applications to stay competitive.
With a thorough plan and structure in place, you can set your dealership up for a successful AI implementation, leading the way to continued business success.
Implement AI Solutions for Your Dealership with Fullpath
For the modern automotive dealership, the integration of AI-powered solutions is more than just a trend; it's a strategic imperative. Implementing AI doesn't need to be overwhelming or scary – all it takes is some initiative, careful consideration, and thorough research. Once you have an understanding of where your dealership can use a boost – and what your budgetary constraints are – it is just a matter of finding the right solution, the right vendor and following it through with the implementation process.
The AI solutions available on the market for today are already helping hundreds of dealers drive success. Fullpath, automotive's leading AI-powered dealership solutions provider, offers multiple groundbreaking solutions that can meet your dealership needs – and budget – to help you bring your business into the future. Fullpath offers powerful predictive analytic tools, marketing automation solutions, data management platforms, and more. Click here to read about the different solutions available and to schedule your personalized demo.
Fill out this form to schedule a personalized demo today!
Thank you for your submission!
We just need a few more details so we can personalize your demo.
Sign up for our newsletter!
We value privacy and would never spam you. We will only send you important updates about Fullpath.