As we approach that time of year when dealership monthly, quarterly and yearly sales goals converge on each other, it's time to consider how your team can strategically approach this critical sales period to ensure your team can move the inventory necessary to crush your year end business goals and make the most of the holiday rush.
In partnering with Fullpath, Boch Toyota of Norwood Massachusetts not only reached, but exceeded their expected Q4 goals, grossing nearly $900,000 in their 2022 holiday season sales push. Here's how:
The Gift of Personalization
Fullpath, automotive's leading CDXP, helps dealers turn their first-party data into dollars by creating a hyper-personalized experience for every customer at every touchpoint along their shopper journey. By unifying siloed dealership data sources into one cohesive platform, Fullpath can leverage the data using AI to instantly generate hyper-specific audiences for targeted ad and email campaigns that are designed to effortlessly convert more leads and drive more sales for your dealership all year long.
With Fullpath's CDXP hard at work at their dealership, Boch Toyota was able to approach the 2022 holiday season with confidence, knowing full well that their dealership's marketing strategy was perfectly primed to handle their end of year sales push.
Stats that Sleigh
Over the course of October, November and December of 2022, Fullpath generated and published 5,780 targeted search, social and display ads for hundreds of hyper segmented audiences automated from Boch Toyota's first party data. The ads were optimized cross-platform around the clock using Fullpath's AI and machine learning, resulting in over 21,500 unique ad views.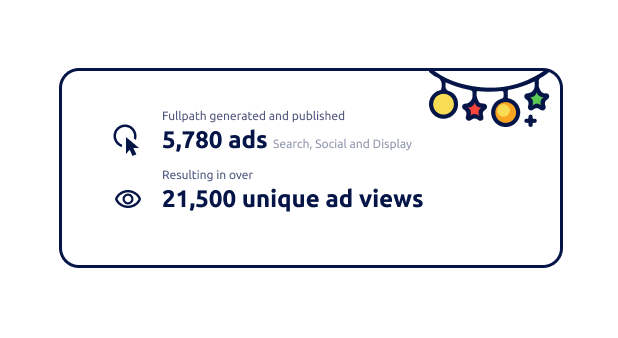 Alongside the AI-powered digital advertising strategy, Fullpath also worked to engage the entirety of Boch Toyota's CRM at scale, sending 936,199 hyper-personalized emails with valuable offers over the course of three months, successfully achieving a 39.5% open rate.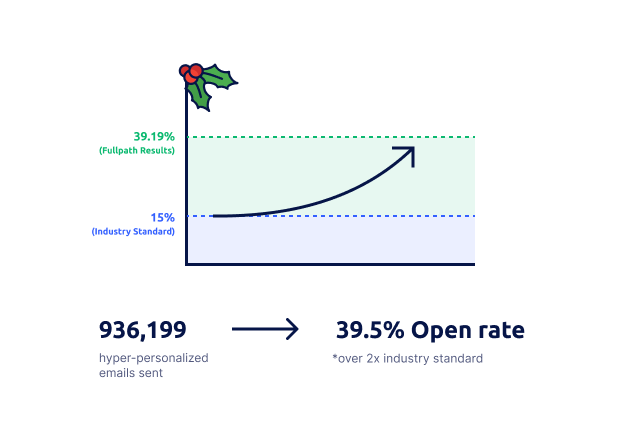 As a result of Fullpath's digital advertising and email marketing activities, Boch Toyota saw a 18% increase in incoming internet leads and a 9% increase in incoming phone leads year over year for Q4 2022 as compared to Q4 2021, before they partnered with Fullpath.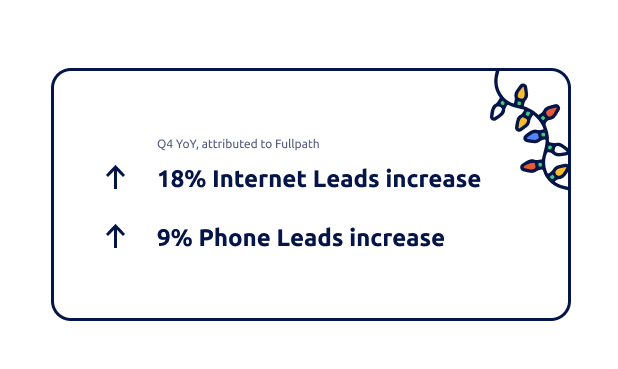 Ringing in a Successful Sales Season
When comparing Q4 2021 sales to their Q4 sales in 2022, Boch Toyota experienced a 12% overall increase year over year, grossing $899,635 in sales that are directly attributed to Fullpath activities, resulting in a whopping 1020% ROI on their Fullpath partnership.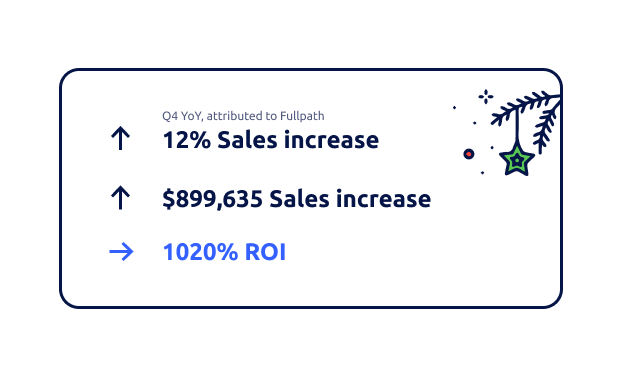 If you are ready to achieve similar results and turbocharge your holiday sales, reach out to the Fullpath team at get.started@fullpath.com.
Fill out this form to schedule a personalized demo today!
Thank you for your submission!
We just need a few more details so we can personalize your demo.
Sign up for our newsletter!
We value privacy and would never spam you. We will only send you important updates about Fullpath.