Welcome to Fullpath, formerly AutoLeadStar ("AutoLeadStar", "Fullpath" or "we").
AutoLeadStar is proud to be one of the very few companies in the automotive space that is ISO 27001 certified (for 3 years now!) this is top international standard of information security.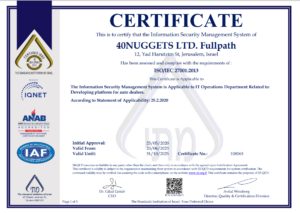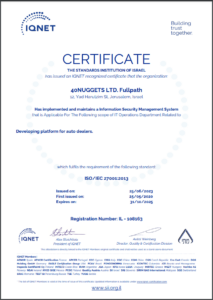 Your privacy is important to us. To better protect your privacy, we provide this privacy policy ("Privacy Policy") explaining our policies and practices regarding the collection, use and disclosure of information we receive and collect on the Services and the choices you can make about the way you share your information and the information of the your customers or end users ("End Users") with us. This Privacy Policy forms part of the terms and conditions of use, available at [Terms of Use] (the "Terms of Use"). Capitalized terms not otherwise defined herein shall have the meanings assigned to them in the Terms of Use.
Your California Privacy Rights (link)
Introduction
We are committed to respecting your and the End Users' online privacy and recognize your need for appropriate protection and management of any Personal Information (as defined hereafter) you share with us."Personal Information" means any information that may be used to identify an individual, including, but not limited to, a first and last name, pen name, personal profile, a home or other physical address, phone number, credit card details and an email address or other contact information.In order to subscribe to the Services, you will be asked to provide us with information that may include the names, email addresses, usernames, and passwords that you or members of your organization will use to establish user account/s (the "Account" or "Accounts") and/or to access the Services.If you are provided with a username and password, it is your responsibility to remember and maintain the security and confidentiality of your username and password. You should not disclose your username and password to any other person. By voluntarily providing us with your Personal Information, e.g. in the framework of the registration process, submitting and order or by sending us a comment, a request or a question, you are giving your consent to the collection, use and, if required solely for the purpose of the provision of the Services, distribution of your Personal Information by us, under the terms and for the purposes specified in this Privacy Policy and subject to applicable law. For the avoidance of doubt, we will not use your Personal Information, including your email address, for any purpose other than the provision of Services or as otherwise specified herein. AutoLeadStar is the data controller of the personal information that we hold about you.All Personal Information provided by you, including your email address and other contact information, is owned by you and you may, at any time, request that we delete any or all Personal Information from our servers by contacting us at

 

privacyofficer@fullpath.com

. Please note that your Personal Information might be essential to the provision of Services and the deletion of any Personal Information may result in the termination of the provision of Services to you.We shall treat the Personal Information collected from End Users in the same manner as we treat your Personal Information as set forth in this Privacy Policy. We request that you make sure that tools you install on your site act in accordance with these terms and that you (1) disclose the use and operation of AutoLeadStar products and (2) include the terms of this Privacy Policy in your own privacy policy.If you are an End User as defined in this policy any questions that you may have regarding your data should be directed to the provider of the services that you are registered for.
Children Under [18] Years of Age
Our website and Services are not directed toward children under 18 years of age and we will not knowingly collect personal information for any child under the age of 13.
The Way We Use Personal Information
We may use your Personal Information for several purposes: (1) to enable you to use the Services or certain features thereof; (2) to contact you and to respond to questions and comments you may send us; (3) to save you from re-entering the information when you access the Services; (4) to provide you with marketing or promotional materials and other information that may be of interest to you (as further detailed below); (5) to detect and protect against error, fraud or other criminal activity; (6) to enforce our Terms of Use including carrying out security reviews to validate your identity, age, contact details and, if applicable, your financial information; and (7) in any other way as described to you at the time of collection of your Personal Information.In addition, we may combine your Personal Information and aggregate it with information collected from other users of the Services and the End Users, in order to better design the Services and its services, by analysing and evaluating the way the Services are being used. We may disclose such aggregated information as provided below.Solely for the purpose of providing the Services, and subject to applicable law, we may transfer your Personal Information and the information of End Users to AutoLeadStar's third-party service providers, across borders, and from your country or jurisdiction to other countries or jurisdictions.By using our website and Services, you give your consent to your Personal Information being stored and processed on servers operated by AutoLeadStar and/or third-party providers (such as Amazon Web Services) that are located where we and our third-party service providers have operations. We shall use reasonable efforts to limit the use of such information and to ensure that appropriate confidentiality and security measures are in place.Solely for the purpose of providing the Services and subject to applicable law, we may share and provide Personal Information and non-personally-identifiable information to our subsidiaries, affiliated companies, or other businesses or persons for the purpose of processing such information on our behalf. We shall require that these persons agree to process such information in compliance with our Privacy Policy, and we shall use reasonable efforts to limit their use of such information and ensure that they use appropriate confidentiality and security measures.We may also employ third party service providers to perform some of the services related to the Services (such as hosting and maintenance services, payments clearance services etc.). Such third parties will have limited access to your Personal Information to the extent necessary to perform their tasks, and are obligated not to disclose or use it for any other purpose. We may also use your email address to send you updates, newsletters or news regarding our services or those of our partners whose offers may interest you. You may choose not to receive such emails by sending a single email with the subject "BLOCK" to

 

privacyofficer@fullpath.com

. Please note that this email must be sent from the email account for which you or an End User wish to block such emails.We will ask for your consent before using information for a purpose other than those that are set out in this Privacy Policy.
Aggregated Information
By using the Services, you agree that we collect data and information of End Users regarding their web site visits (such as how they navigate the web sites). Such information may be collected and stored. This information may include the internet protocol ("IP") address, browser and platform type, the length of the visit, the date and time of the End User's visit, the pages viewed and the order of those pages, the amount of time spent on particular pages, and the websites visited before and after and Personal Information.We use this information mainly to monitor and analyse the commercial habits of End Users. As mentioned above, we may aggregate such data (alone or with Personal Information) for the purpose of providing and improving the Services.Subject to the provisions of any applicable law, we may disclose and share such aggregated information (from which your and End User Personal Information cannot be isolated) with interested third-parties. We may also provide advertisers with aggregate information and/or non-identifying information about the Services and its users.
Cookies and Other Tracking Technologies
Some of our Services pages utilize "cookies" and other tracking technologies to collect information and to tailor the Services to the needs and interests of our customers. A "cookie" is a small text file that is transferred from the Services' servers to the computer's hard drive, and uniquely identifies the End User's browser. Cookies can only be read by the server that sent them, and they cannot read data from the hard drive. Tracking technologies (including cookies) may record information such as internet domain and host names; IP addresses; browser software and operating system types; clickstream patterns; and dates and times that internet services are accessed. Our use of cookies and other tracking technologies allows us to improve our Services and the collection of information. Some of the sites you visit may be monitored by one or more third-party monitoring software(s), and may capture information about your visit that will help us improve the quality of our service. Please note that the End User may set most browsers to either notify when the End User receives a cookie or to block cookies. Further, the End User can disable or delete similar data used by browser add-ons, such as Flash cookies, by changing the add-on's settings. You should be aware that the Services use the services of third-party suppliers for the provision of some of its services. To provide such services, these suppliers may also use cookies, for the reasons outlined above.
Compliance with Laws and Law enforcement
We may disclose any and all information, including Personal Information, if we are required to do so by any applicable law or regulation, or an order of a court or other governmental body having jurisdiction.We may also disclose Personal Information if we, in our good-faith discretion, believe that such disclosure is necessary to: (i) enforce the Terms of Use; (ii) take precautions against possible liability; (iii) investigate and defend ourselves against any (yours, End User's or any third party's) claims or allegations; (iv) protect our property and rights (including the security or integrity of the Services); (v) protect the property, rights or safety of any third party; and/or (vi) prevent or stop any illegal or unethical activity.
Links to Other Websites
Our Services may contain links to other websites. Other websites may also reference or link to our Services. The fact that such links and advertisements are posted and presented on the Services is not an endorsement of, or representation of any kind in respect of those websites or their privacy policies and practices. We are not responsible for the privacy practices or the content of such other websites, and encourage you to review the privacy policies of those linked websites before using them.
Event of Merger, Sale, or Bankruptcy
In the event that AutoLeadStar is acquired by or merged with a third party entity, we reserve the right, subject to applicable law, to transfer or assign the Personal Information and any other information we have collected as part of such merger, acquisition, sale, or other change of control.In the event of our bankruptcy, insolvency, reorganisation, receivership, or assignment for the benefit of creditors, or the application of laws or equitable principles affecting creditors' rights generally, the Personal Information and any other information may, subject to applicable law, be treated, transferred, or used by third parties.
Commitment
We are committed to protecting privacy. Protecting privacy online is an evolving area, and AutoLeadStar's Services are constantly evolving to meet these demands. We employ commercially reasonable physical, administrative, and electronic security measures and precautions to protect Personal Information from unauthorized access or use and to ensure the integrity and security of Personal Information and any other information we gather about you and the End Users.If the Personal Information or any other information is accessed by an unauthorized third party, we will not be responsible for any direct or indirect damage caused as a result of such unauthorized access. Unfortunately the transmission of information via the internet is not completely secure. Although we will do our best to protect your information, we cannot guarantee the security of any data transmitted to or through the Services. You acknowledge and agree that any transmission will be at your own risk.We recommend that you keep your login and password private and secure. For the avoidance of doubt it is clarified (and you hereby agree) that we cannot and will not be liable for any loss or damage that arises as a result of any failure to protect your password or account information.If you have any comments or questions regarding our Privacy Policy, please contact us at

privacyofficer@fullpath.com

.
Amendments
We reserve the right, at our discretion, to change, modify, or add to this Privacy Policy at any time. You will be notified of such changes via email or by other electronic means such as a pop-up or banner when you login to the Services. Such amendments, updates and modifications shall be effective immediately following such notification. Your continued use of our Services following the notification of changes to this Privacy Policy means you accept these changes. We recommend that you print a copy of this Privacy Policy for future reference.
Your Consent
By using the Services, you consent to the terms of our Privacy Policy, as they are from time to time, and to AutoLeadStar's processing of Personal Information and any other information for the purposes and using the methods stated above. If you do not agree to this Privacy Policy, please refrain from using our Services or cease from doing so if you are already using our Services.
Last modified: December 26, 2019.
Terms and Conditions of Use
The terms and conditions of use set forth herein (the "Terms") form a legal agreement between AutoLeadStar Inc. ("AutoLeadStar", "us" or "we") and you ("you" or "User"), and shall govern your use of AutoLeadStar products and services (the "Services"). AutoLeadStar's Privacy Policy, which outlines our obligations and practices towards handling any personal information that you may provide to us or that we may gather in the course of providing you with our services, is incorporated herein by reference. PLEASE READ THESE TERMS, AS WELL AS AUTOLEADSTAR'S PRIVACY POLICY, CAREFULLY BEFORE USING THE SERVICES.
Acceptance of Terms
By using the Services or any part thereof, you agree to become bound by these Terms. If you do not agree to all the Terms, then you should refrain from using the Services.
Modification of the Terms
We reserve the right, at our discretion, to modify or replace these Terms or any part thereof at any time. You will be notified of such changes via email or by other electronic means such as a pop-up or banner when you login to the Services. Your continued use of the Services following such notification constitutes your acceptance of the Terms as modified.
Registration Requirements
In order to access and use the Services, you may be required to register and create an account with AutoLeadStar (the "Account").In order to register and create an Account or access the Services, you agree to comply with the following requirements:

If and to the extent that you use our Services, you use them as part or in the course of your business, trade or profession, and you do not wish them to be supplied to you for your own private use. It is clarified that the Services are not of a type ordinarily supplied for private use or consumption and are not sold for that purpose.
You are more than 18 years of age, and are fully able and competent to enter into the terms, conditions, obligations, affirmations, representations, and warranties set forth in these Terms.
If you are required to provide AutoLeadStar with information about yourself. You will provide AutoLeadStar with accurate and complete information. You will also keep such information up-to-date at all times.
If your Account is terminated by AutoLeadStar, you will not create a new account without our permission.

Fees and Payments

You agree to pay to AutoLeadStar any fees for Services that you purchase or use, in accordance with the pricing and payment terms presented to you for the Services. Fees paid by you are non-refundable, except as provided in these Terms or when required by law.
Some of our Services are billed on a subscription basis ("Subscription"). This means that you will be billed in advance on a recurring, periodic basis. Billing cycles are typically monthly or annual, depending on what subscription plan you select when purchasing a Subscription. Your Subscription will automatically renew at the end of each billing cycle unless you cancel auto-renewal, at any time, through your online account management page, or by contacting our customer support team. Your Subscription will continue until the end of the billing cycle in which the Subscription was terminated.
AutoLeadStar reserves the right to revise Subscription fees. We will provide you with reasonable prior notice of any change in fees to give you an opportunity to cancel your Subscription before the change becomes effective.
AutoLeadStar reserves the right to cancel a Subscription at any time. If we cancel a Subscription due to a breach of these Terms you will not be eligible for any refund.
You understand if you have an unpaid balance to AutoLeadStar and do not make satisfactory payment arrangements, your account may be placed with an external collection agency. You will be responsible for reimbursement of the fee of any collection agency, which may be based on a percentage at a maximum of 35% of the debt, and all costs and expenses, including reasonable collection and attorney's fees incurred during collection efforts.In order for AutoLeadStar or their designated external collection agency to service your account, and where not prohibited by applicable law, you agree that AutoLeadStar and the designated external collection agency are authorized to (i) contact you by telephone at the telephone number(s) you provide, including wireless telephone numbers, which could result in charges to you, (ii) contact you by sending text messages (message and data rates may apply) or emails, using any email address youI provide and (iii) methods of contact may include using pre-recorded/artificial voice message and/or use of an automatic dialing device, as applicable.

Usage Requirements
When using the Services, you agree to comply with the following requirements at all times:

You will comply with these Terms as well as AutoLeadStar's Privacy Policy at all times.
You will comply with any law or regulation applicable to you, including, for the avoidance of doubt, any laws in jurisdictions with which you have a nexus regarding Internet privacy and SPAM.
You will not use your Account or the Services in a manner that is unlawful or illegal or that infringes these Terms or the AutoLeadStar Privacy Policy.
You will not sell, lease or otherwise transfer your Account, nor will you buy or rent an Account, or accept any transfer thereof, from any person without our permission.
You will not interfere, attempt to interfere, or assist anyone in interfering or attempting to interfere with the proper functioning of the Services.
You will not modify, attempt to modify, or assist anyone in modifying or attempting to modify any software or file that is part of the Services without our permission.
You will not disrupt, disable, overburden or impair the Services or the proper working of any server(s) we use to operate or support the Services, or attempt to do so, or assist anyone in doing so or attempting to do so.
You will not perpetrate, try to perpetrate, or assist anyone in perpetrating or trying to perpetrate any attack on the Services, be it by means of viruses, by using automated means (such as harvesting bots, robots, spiders, or scrapers) or by any other means.
You will not reverse engineer, decompile, disassemble, decipher or otherwise attempt to derive, by whatever means, the source code for any underlying software or other intellectual property used to provide the Services, or to obtain any information from or about the Services.
You will not make improper use of the support service we offer or submit false or misleading reports or queries.
You will not access, try to gain access, or assist anyone in accessing or trying to gain access to Accounts registered to other users.
You will not access, intercept or otherwise collect, or attempt to do so, or assist anyone in doing so or attempting to do so, by whatever means, information from or through the Services or from Accounts registered to other users.
You will not solicit, attempt to solicit or assist anyone in soliciting or attempting to solicit personal or login information from other users of the Services.
You will not use the Services to transmit unauthorized commercial communication or any other unauthorized communications such as spam, junk mail and other unsolicited communication to users, end users and third parties, chain letters, or any other material that promotes malware, spyware and other downloadable items.

User Content
The Services may allow you to communicate with users of Internet data, and third parties ("End Users") or to otherwise post or transmit information or content, whether such communication was initiated by you or nor not, whether the communication is inbound or outbound.When communicating with the End Users, you will ensure that such communication with the End Users:

is not unlawful, libellous, defamatory, obscene, pornographic, indecent, harassing, threatening, invasive of privacy or publicity rights, abusive, fraudulent, or racially, sexually, religiously, or otherwise objectionable or offensive;
does not constitute, encourage, aid, assist or provide instructions for a criminal offense or an infringement of applicable laws or regulations;
does not infringe any patent, trademark, trade secret, copyright or other intellectual property or proprietary right of any party; and
does not contain any nudity, excessive violence or offensive subject matter or a link to such content.

AutoLeadStar is not liable for any communication with the End Users transmitted or posted by you or any third party, or for any loss thereof or damage thereto, or for any unauthorized communication with the End Users you may encounter. Your use of the Services is at your own risk.

AutoLeadStar has no obligation to screen, edit or monitor any Communication with the End Users but we reserve the right, in our absolute discretion, to remove, screen or edit any Communication with the End Users or part thereof at any time, for any reason and without notice.

End User Data and Information
Our Service collects data about the visitors of our Users' Internet web sites ("End User Data") and monitors the interaction between the End Users and our Users' web sites including through the use of Cookies as detailed in our Privacy Policy ("Data Collection"). By creating an Account or using our Services you agree to the Data Collection and hereby grant, and represent and warrant that you have all rights necessary to grant, all rights and licenses to the End User Data . You furthermore agree (a) that AutoLeadStar may collect, analyze, and use data derived from End User Data, which may include personally identifiable data and/or information collected from or about an individual but which does not identify the individual personally solely for purposes of operating, analyzing and improving the Services; and (b) to notify each End User that they are subject to Data Collection and to fully comply with all laws and regulations in your country and in countries in which your End Users reside regarding the use of cookies and data collection.In connection with End User Data, you hereby represent, warrant, and agree that: (a) you have obtained or will obtain the End User Data lawfully and/or have not engaged in material misrepresentation, deception or other fraudulent or improper means to cause the End User Data to be collected; (b) the End User Data does not and will not violate any applicable laws or any person or entity's proprietary or intellectual property rights; (c) all End User Data has and will be collected by you in accordance with a privacy policy that permits AutoLeadStar to share, collect, use, and disclose such End User Data as contemplated under these Terms and solely for the provision of the Services, and if required by applicable law, pursuant to consents obtained by you to do each of the foregoing; (d) you are solely responsible for ensuring compliance with all privacy laws in all jurisdictions that may apply to End User Data; (e) AutoLeadStar may exercise the rights in End User Data granted hereunder without liability or cost to any third party; and (f) the End User Data complies with the terms of these Terms.For avoidance of doubt, and pursuant to your own privacy policy, ownership of End User Data remains with you as the data controller of such data, whilst AutoLeadStar performs and provides the Services as a data processor.
Intellectual Property
All right, title and interest in and to the Services and all content and any other materials contained therein, including without limitation all copyright, trademark, patent and other intellectual property rights therein, shall be and remain the sole and exclusive property of AutoLeadStar or its licensors. AutoLeadStar, the AutoLeadStar logos, and all game names are trademarks of AutoLeadStar and may not be used without our express prior written consent.You expressly acknowledge and agree that:

you will not acquire any ownership rights by using the Service, downloading material from or uploading material to the Service, or by purchasing any part of the Service;
you will not copy, redistribute, publish or otherwise exploit material from the Services, except as expressly permitted herein;
all comments, feedback, suggestions, ideas, and other submissions (the "Ideas") you disclose, offer or submit to AutoLeadStar in connection with the use of the Services shall be the exclusive property of AutoLeadStar, and AutoLeadStar is entitled to use, sell, exploit and disclose the Ideas in any manner, without restriction and without compensation to you; and
you shall have no ownership or other property interest in your Account, and all rights in and to the Account are and will forever be owned by and inure to the benefit of AutoLeadStar.

Privacy
We care about the privacy of our Users. You understand that by using the Services you consent to the collection, use and disclosure of your personally identifiable information and aggregate and/or anonymized data as set forth in our Privacy Policy, and to have your personally identifiable information collected, used, transferred to and processed in the United States. YOU HEREBY ACKNOWLEDGE AND AGREE TO CREATE AND INCLUDE IN YOUR OWN PRIVACY POLICY OR STATEMENT IN CONNECTION WITH THE USE OF THE SERVICES, A DISCLOSURE WITH RESPECT TO OUR COLLECTION, USE AND DISCLOSURE OF PERSONALLY IDENTIFIABLE INFORMATION OF YOUR CUSTOMERS DISCLOSED TO US THAT IS CONSISTENT AND IN ACCORDANCE WITH OUR PRIVACY POLICY, INCLUDING WITH RESPECT TO THE POTENTIAL DISCLOSURE OF SUCH INFORMATION TO THIRD PARTY PARTNERS.
Disclaimers and Limitation of Liability
You expressly acknowledge and agree that:

use of the Services is at your sole risk;
the Services are provided on an "as is" and "as available" basis, without warranties of any kind, either express or implied, including, without limitation, implied warranties of merchantability, fitness for a particular purpose or non-infringement;
we have no control over, and no duty to take any action regarding: (i) which End Users gain access to the Services; (ii) what effects the content may have on you; (iii) how you may interpret or use the Services; or (iv) what actions you may take as a result of having been exposed to the Services;
the Services may direct you to websites containing information that may be offensive or inappropriate and AutoLeadStar makes no representations concerning any such content and is not responsible or liable for the accuracy, copyright compliance, legality or decency of any such content;
to the fullest extent permitted by any applicable law, AutoLeadStar (including its subsidiaries and affiliates) shall not be liable for any damages or injury whatsoever caused by or related to use of, or inability to use, the Service under any cause or action whatsoever of any jurisdiction, including, without limitation, actions for breach of warranty, breach of contract or tort (including negligence) and that AutoLeadStar (including its subsidiaries and affiliates) shall not be liable for any indirect, incidental, special, exemplary or consequential damages in any way whatsoever arising out of the use of, or inability to use, the Service;
you further specifically acknowledge that AutoLeadStar (including its subsidiaries and affiliates) is not liable, and you agree not to seek to hold AutoLeadStar (including its subsidiaries and affiliates) liable, for the conduct of third parties, including other users of the Service, end users and operators of external sites, and that the risk of the Service and external sites and of injury from the foregoing rests entirely with you;
your sole and exclusive remedy for any dispute with us is to stop using the Service and to terminate your Account; and
some jurisdictions do not allow the exclusion of certain warranties or the limitation or exclusion of liability for certain types of damages, therefore, some of the above limitations in the section may not apply to you.

Indemnity
You agree to defend, indemnify and hold harmless AutoLeadStar (including its subsidiaries and affiliates) from and against any and all claims, demands, damages, obligations, losses, liabilities, costs or debt, and expenses including, without limitation, legal fees and disbursements resulting, directly or indirectly, or arising from (a) Data Collection; (b) your breach of these Terms; (c) your access, use or inability to access or use the Services; (d) breach of any third party rights (or any End User rights), including without limitation, any copyright, proprietary, or privacy right; or (e) your failure to comply with any law or regulation applicable to your business activities.
Termination
If you wish to terminate your Account, you may simply discontinue your use of the Services or contact us by email to contact@fullpath.com stating that you wish to terminate your Account.AutoLeadStar may terminate or suspend the Services or your Account immediately, at its sole discretion, without prior notice or liability, if you are breaching, or if we suspect that you are, any terms or conditions of these Terms, all without prejudice to any other legal or equitable remedies that we may seek.Upon termination of your Account, your right to use the Services will immediately cease.All the provisions of these Terms which by their nature should survive termination shall survive termination, including, without limitation, Intellectual Property (paragraph ‎8), Disclaimers and Limitation of Liability (paragraph 10), Indemnity (paragraph ‎11) and Law and Jurisdiction (paragraph ‎18).
Complaints
In the event you have a complaint about the Services you should contact us by email contact@fullpath.com with a view to resolving the matter. Complaints will receive a return email to confirm receipt and to confirm that we are dealing with the complaint. You will receive a response to the complaint within 14 days of the complaint. If a complaint requires further investigation and referral to an alternative person, you will be advised of this within that time. Where a complaint requires further investigation, every effort will be made to complete the investigation within 21 days of receipt, after which we will contact you with the findings, recommendations and any proposed actions.
Assignment
AutoLeadStar may assign any of its rights under these Terms to any third party at its sole discretion, at any time, without your consent, whereas you are not entitled to assign any of your rights under these Terms without our permission.
Waiver
No waiver by AutoLeadStar of any of these Terms shall be effective unless it is expressly stated to be a waiver and is communicated in writing. If AutoLeadStar fails at any time to insist upon strict performance of any of the terms and conditions of these Terms, or if AutoLeadStar fails to exercise any of the rights or remedies to which it is entitled under these Terms, this shall not constitute a waiver of such rights or remedies and shall not relieve you from compliance with such obligations.
Severability
If any of these Terms are determined by any competent authority to be invalid, unlawful or unenforceable to any extent, such term, condition or provision will to that extent be severed from the remaining terms, conditions and provisions of these Terms which will continue to be valid to the fullest extent permitted by law.
Entire agreement
These Terms represent the entire agreement between AutoLeadStar and you in relation to the subject matter hereof and supersede any prior agreement, understanding or arrangement between us, whether oral or in writing. AutoLeadStar and you acknowledge that by entering into these Terms, neither of us has relied on any representation, undertaking or promise given by the other except as expressly stated in these Terms.
Law and jurisdiction
These Terms and any dispute or claim arising out of or in connection with them or their subject matter or formation (including non-contractual disputes or claims) will be interpreted in accordance with the laws of the State of Ohio without regard to its conflict of law principles. In the event of any conflicts between foreign law, rules, and regulations; and Ohio law, Ohio law, rules and regulations shall prevail and govern. You agree that all claims you may have arising from your use of the Services which you may bring against AutoLeadStar will be under the exclusive jurisdiction of the Courts of Cuyahoga County, Ohio. The United Nations Convention on Contracts for the International Sale of Goods and the Uniform Computer Information Transactions Act shall not apply to this Agreement.
These Terms were last updated on March 1, 2023.