What is brand loyalty?
Brand loyalty describes the positive feelings a customer will associate with a particular brand or company that leads to repeat purchases of products or services despite the existence of or actions taken by competitors with similar offerings or pricing. Loyalty is typically driven by positive customer experiences and overall customer satisfaction with the product or service purchased.
What is lifetime value (LTV)?
Lifetime Value (LTV), or Customer Lifetime Value (CLV) is a metric that is widely used in the SaaS (software as a service) industry. LTV measures the estimated value of the projected net profit a company stands to gain from a customer over the lifetime of their relationship – from the moment they make a purchase until the moment the relationship ends – rather than the profit gained from a single sale. 
SaaS companies that structure their projected profits based on calculated LTV tend to focus on long term growth and profitability and will likely dedicate more resources to preserving the health of their existing customer relationships while still working to acquire new ones.
Brand Loyalty in Retail Automotive
Over the last decade or so, brand loyalty has dropped significantly across industries. Modern consumers are less inclined to stay loyal to a particular brand or product, opting instead to research competitors and purchase based on their findings.
The automotive industry has long relied on consumer brand loyalty to bring in repeat business and drive revenues – but times have changed. With Millennials and Gen-Z now filling a larger portion of the market share of car shoppers, brand loyalty in the automotive industry has been in free fall. In 2022, brand loyalty in automotive dropped to 49.2%, the lowest figure since 2014.
Shoppers no longer feel the same pull of previous generations to stay loyal to a particular brand – in any industry – and instead opt to purchase their vehicle of preference after performing in-depth online research and consideration of the overall shopping experience provided by the retailer. With this shift in shopper mindset, profit focused dealers need to shift their approach towards the SaaS LTV model of thought and begin nurturing customer relationships with the goal of winning repeat business and driving loyalty.
The LTV of a Dealership Customer
According to a recent study, the average consumer in the United States will purchase 9 cars in their lifetime. Assume the average profit a dealer makes on a car is $2,500. If a dealership makes an estimated $150-$250 per service appointment which happens twice a year per customer, the dealership will make an estimated $2,800 over the average 8 year lifetime of the vehicle. If we add the average profit from a sold vehicle ($2,500) to the total spent on service over the lifetime of a vehicle ($2,800) and multiply that by the 9 vehicles a customer will purchase in a lifetime, we reach an approximated $47,700 LTV for the average dealership customer.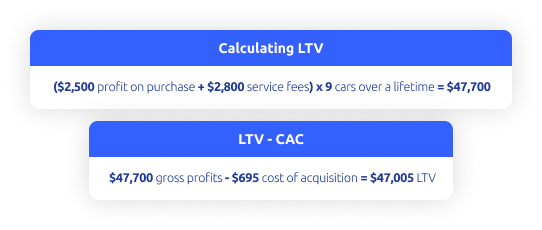 According to NADA, for every car and truck sold in the first half of 2022, dealerships spent an average of $695 on advertising, a dramatic 28% increase in cost from the $541 low-point recorded just year before. In a perfect world, a dealership will spend $695 to acquire a customer and, 9 cars later, will have earned $47,005 in profit. In reality it is not that simple. Dealers have a tendency to stay myopic, choosing to focus on making an initial sale and acquiring a new customer but, in order to capture the full LTV of a customer, dealerships need to instead focus on maintaining and nurturing their customer relationships to drive loyalty. Creating exceptional customer experiences and building loyalty through consistency of service will ensure the customer comes back through the dealership doors time after time.
Building Brand Loyalty for Dealerships
Building brand loyalty starts with creating exceptional customer experiences and providing service that leaves a lasting impression on shoppers, both online and in the showroom. This can include:
Personalized experiences: Surveys suggest that 80% of shoppers want to receive personalized engagements from retailers. This includes hyper-specific recommendations and timely engagements that reflect shopper preferences, needs and interests. For dealerships this can include an email campaign with a special offer related to the customer's vehicle of interest or an opportunity to refinance their vehicle with better rates.

Unified shopping experiences: The modern shopper typically takes a hybrid approach to car buying. The majority of shoppers begin their shopping journey online and complete their purchase in the dealership showroom. Creating a seamless shopping experience at a dealership can include ensuring a customer who starts their journey by clicking a digital ad will land on the correct landing page on the dealership's website and not simply be taken to the website homepage. This unified flow lowers frustration on part of the customer and ensures a more positive shopping experience. Shoppers have come to expect a seamless omnichannel experience and when a dealership can provide it, they are more likely to drive loyalty.

Continued contact: Purchasing a vehicle should not mark the end of a dealer-customer relationship but rather serve as a launch point for a long term, valuable relationship for both parties. Continued contact is vital in capturing more of the LTV of dealership customers. This can be accomplished through timely reminders to schedule service appointments, or related deals on a vehicle upgrade or lease renewal. By staying in touch, dealerships can ensure they stay front of mind, increasing the likelihood of winning repeat business.

Quality customer service: Studies have found that 80% of customers say they switch brands due to poor customer service. Dealerships providing excellent customer service are more likely to see repeat customers and receive referral business. This requires understanding shopper needs, wants and preferences before they step through the doors of a showroom. Dealerships that harness their data to gain insights on their typical shoppers will be more likely to provide exemplary customer service when the customer does arrive at the dealership.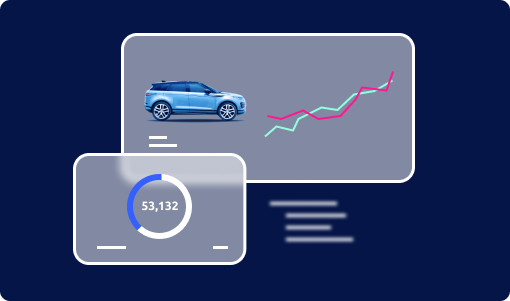 Capturing LTV with a CDP
Driving brand loyalty has been made infinitely easier with the introduction of Customer Data Platforms (CDP). Customer Data Platforms help retail based businesses gather their data into one central platform so retailers can leverage insights to deliver personalized customer experiences. Automotive-centric Customer Data Platforms are designed to bring the SaaS metrics and mindset to dealerships by providing dealers with the technology they need to capture more of the LTV of their customers. 
CDPs work to unify dealership data sources and enable dealers to leverage their data to execute AI-powered omni-channel campaigns designed to create customers for life. This ensures customers receive timely, relevant, seamless engagements that are hyper-personalized based on their most recent interactions with the dealership. This technology allows dealers to compete on the level of corporate retail giants and create long term relationships that drive revenue.

Conclusion
As online shopping becomes the norm, dealerships need to take a page out of the SaaS playbook and begin focusing their business around the LTV of their customers. The ability to provide a personalized, exceptional customer experience cross-channel in every interaction with a shopper is the best way to drive loyalty with modern shoppers and capture more of their LTV.
Forward-thinking dealers need to focus on adopting the latest technologies like CDPs to better harness their ensure they are meeting the needs and expectations of shoppers in order to win more business and drive long term loyalty.
*View the full white paper here.
Fill out this form to schedule a personalized demo today!
Thank you for your submission!
We just need a few more details so we can personalize your demo.
Sign up for our newsletter!
We value privacy and would never spam you. We will only send you important updates about Fullpath.