It's a beautiful Sunday morning and you decide to grab your morning brew at the new coffee shop down the road.
The atmosphere is lovely, the coffee is delicious, and the service is excellent, all of which drives your decisions to come back the next morning for your pre-work coffee fix. Over time, the staff gets to know you. They greet you by name and have your order ready before you get to the front of the line. You start recommending the shop to your friends and family and slowly but surely, you become a coffee house regular.
This is the same process that should be taking place with every customer at your dealership.
Repeat and referral business is the key to developing strong, lasting, resilient business that can withstand any market changes – be it an inventory issue or a waning economic climate. By providing excellent customer experiences from day one, you can encourage customers to return to your dealership and refer your dealership to friends and family time after time.
So, how do you create positive customer experiences?
Customer Data and Experience Platforms (CDXP) work to unify first-party dealership data sources into one comprehensive platform and then leverage that data to create personalized customer experiences across the entire shopper journey. With carefully timed and relevant engagements, CDXPs help dealers build valuable, lasting relationships with their customers over time.
Let's take a closer look at customer lifecycles and the role CDXPs play in creating extended dealer – customer relationships.
Understanding Customer Lifecycles
Before we dive into the how, let's first take a deeper look at the customer lifecycle.
The customer lifecycle is a framework used by businesses to understand their relationships with their customers over time, from the first time they engage with their business or products through to the point where the customer is no longer engaging with the business.
Understanding the customer experience at your dealership can help you improve operations at your dealership in order to extend customer lifecycles, drive customer loyalty, and ultimately, increase revenues over time from repeat business.
The 5 Stages of the Customer Lifecycle
The customer lifecycle can typically be broken down into five stages:

Awareness – this is the first time a customer comes in contact with your dealership, through advertising or word of mouth.
Consideration – the customer will look over the different options your dealership has to offer, research pricing options, and read reviews.
Purchase – the customer decides to make a purchase at your dealership and the first sale is made.
Post-purchase – Once the customer has completed their purchase, they will consider their shopping experience with your dealership. They may leave a review or feedback that can help your dealership get future business.
Loyalty – Assuming the customer had a positive experience, they return to your dealership for a service appointment or their next purchase. They may also recommend your dealership to others.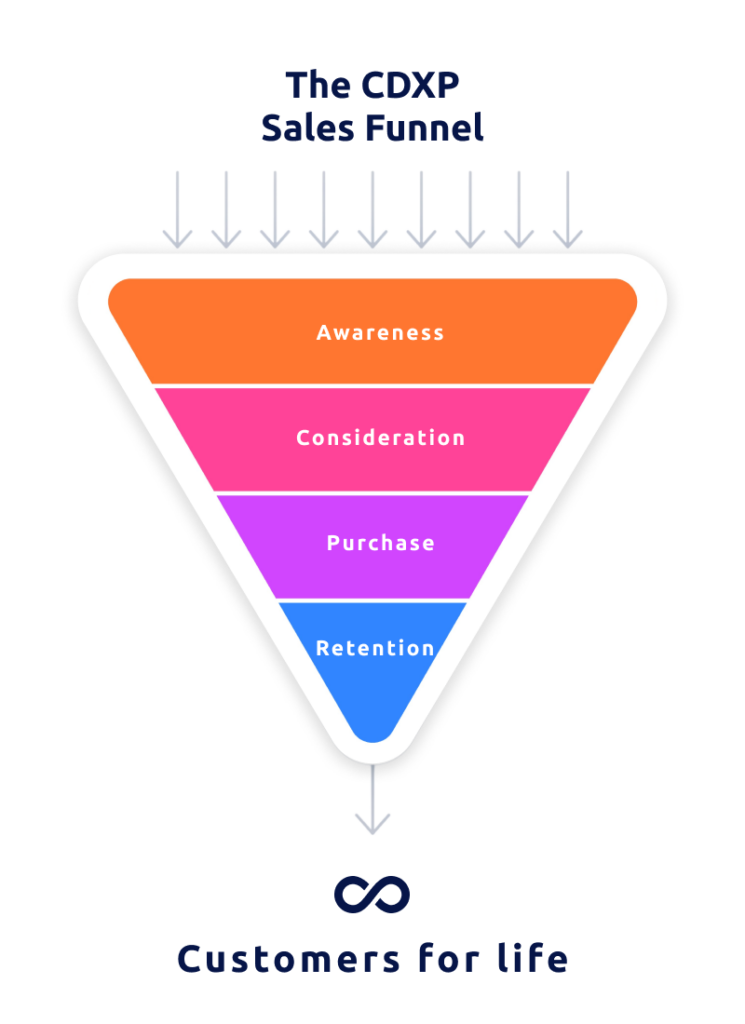 As you can see, while a sale may happen at stage three, it is by no means the end of the customer lifecycle.  By creating positive customer experiences at every stage of the customer journey, you can drive customer loyalty which increases the likelihood your customer will return to your dealership for their next service appointment, trade-in, or lease renewal. 
Challenges of Extending Customer Lifecycles
Customer loyalty creates repeat business which, over time, increases overall dealership profitability while also reducing new business acquisition costs. Loyal customers are likely to return to your dealership for their car related needs time after time and are more likely to recommend your dealership to others which can help bring you new customers without lifting a finger.
A negative customer experience can create the opposite effect. A customer who had a poor customer experience at your dealership will not only not return for their next purchase, they can quickly cost you money by leaving a negative review or by discouraging friends or family from visiting your dealership when asked about their experience with you.
The reality is that winning back loyalty is harder than earning it in the first place. A customer who has a poor customer experience may choose to turn to your competition in the hopes of getting better service there. Think back to the coffee shop we spoke about at the beginning – all it takes is one poor service experience or one burnt cup of coffee for you to look for another option for your morning caffeine hit. The stakes are the same for car dealerships, which is why ensuring every interaction is a positive interaction is critical for dealers looking to stay ahead of the competition.
How a CDXP Can Help Extend Customer Lifecycles
The secret to creating extended customer lifecycles and driving loyalty lies in creating excellent customer experiences. Customers have a tendency to remain loyal to businesses that provide them with exceptional service. Let's take a closer look at the different ways Customer Data and Experience Platforms are helping dealers create exceptional customer experience across the entire shopper journey.
Improved Customer Experience
CDXPs help dealerships create loyalty building experiences by creating personalized marketing experiences for every customer. The CDXP works to leverage your dealership's first party data including demographic information, website and ad engagements, and previous dealership interactions to create hyper-personalized emails and ad campaigns for every customer. This ensures that every touchpoint across the shopper journey – from an offer on a vehicle they have shown interest in, to a friendly service reminder, to a future trade-in offer or lease renewal offer – is relevant to the customer. 
Consistent Marketing Experience 
In addition to creating relevant marketing campaigns, the CDXP ensures your customer marketing experience is consistent cross-channel. That means if a customer receives an email or clicks on an ad with a specific offer, when they click on the link to your website, they will be taken to a customized web page that features the offer they engaged with.
Your customers should never have to scour your website looking for the deal they were offered. The CDXP provides a seamless omni-channel experience, eliminating frustration and increasing the likelihood your lead will continue to engage with your dealership over time.
360° Shopper Profiles 
Automotive centric CDXPs work to unify dealership data sources including your CRM, website analytics, ad data and more. The CDXP then cleans and normalizes your data using identity resolution technology to eliminate duplicate leads and creates a data-rich, 360° profile for every dealership shopper. This process ensures the data you have is accurate and relevant which can enable your sales team to customize their approach for every lead and provide exceptional service every time they engage with your customers.
Smart Automated Ad Audiences 
Using AI, the CDXP will segment your first-party data into hyper-specific audiences for your targeted ads based on factors like demographics, vehicles of interest, browsing behavior and more. The CDXP will then instantly generate hundreds of effective ads to send to those audiences. By creating ads based on hyper-segmented audiences, you can ensure your leads will only receive messaging that is relevant to them, creating an improved marketing experience and an overall positive customer experience 
Retargeting Campaigns
Retargeting campaigns work to bring back  leads who have previously visited your website. CDXPs identify leads who previously visited your website or engaged with your ads  and generate ad campaigns based on their behaviors and interests, turning them back into active shoppers with hyper-targeted messaging that fits their latest activity. While many companies do this manually, leveraging a CDXP will update your data in real-time and move shoppers to the most relevant audiences automatically. 
Continued Contact 
Your initial sale should be the first of many for each customer. The CDXP helps you nurture your dealer-customer relationship and extend the customer lifecycle by creating timely touchpoints post-sale. For example, if your customer purchased a new car, in a few months they will automatically receive a personalized message reminding them to book their first service appointment. Down the road the CDXP will identify that enough time has passed for them to consider an upgrade and send them an attractive offer. These carefully crafted and timed messages are designed to provide added value for your customers, ensuring their positive customer experience continues beyond their initial purchase.     
Create Customers for Life with Fullpath
Creating exceptional customer experiences at every point in the shopper journey is the key to building a strong successful dealership. With a Customer Data and Experience Platform, you can ensure your dealership is providing the best possible experience- from your marketing, to the sales process, and beyond.
Fullpath, automotive's leading CDXP, is designed to help dealers stand out in the hyper-competitive market by creating exceptional, personalized shopping experiences across the buyer journey that drive customer loyalty and build customers for life. If you are interested in learning more about how Fullpath can elevate your dealership and build lasting relationships with your customers, click here or email us at get.started@fullpath.com
Fill out this form to schedule a personalized demo today!
Thank you for your submission!
We just need a few more details so we can personalize your demo.
Sign up for our newsletter!
We value privacy and would never spam you. We will only send you important updates about Fullpath.