Artificial intelligence (AI) has seen significant advancements in recent years with transformative innovations coming to market at a rapid pace. While the products released have been significant and exciting, few technologies have generated the same level of buzz created by the recently released conversational AI, ChatGPT.
ChatGPT is a state-of-the-art large language model (LLM) developed by OpenAI that has revolutionized the field of AI with a chatbot designed to engage in natural, contextually aware conversations. The GPT in ChatGPT stands for Generative Pre-trained Transformer which is a type of neural network based machine learning. In a series of successive releases OpenAI has progressed the sophistication of its GPT model by training it on ever larger sets of data. GPT-3 was trained on 175 billion "parameters." GPT-4 was possibly trained on even more, but OpenAi has not released this information to the public.

The well-deserved excitement and hype surrounding ChatGPT is a testament to its revolutionary capabilities and potential impact on a wide range of industries. In the automotive industry, ChatGPT has already proven to be an absolute game changer as industry professionals are finding new applications for the AI technology in helping manufacturers and dealers improve their operations and offer a better customer experience.
ChatGPT's Impact on the Automotive Industry
While we are still discovering the full breadth of the capabilities of ChatGPT, the predictions for how the technology impact the automotive industry are mind-blowing:
Manufacturing: The analytic capabilities of ChatGPT could be utilized to pinpoint bottlenecks in the manufacturing process, improve operations of assembly lines and provide employee training to improve performance.

Quality Control: ChatGPT could be used to improve the safety of vehicles by analyzing various data sources to quickly identify potential problems, reducing the need for recalls and improving overall customer satisfaction.

Autonomous Vehicles: ChatGPT could help improve the performance and safety of these vehicles by creating a more fluid human to machine communication process. Additionally, by analyzing content from sensors and cameras, ChatGPT could help autonomous vehicles make more informed decisions and navigate complex situations.

Supply Chain Management: With its ability to process huge volumes of data in seconds, ChatGPT could be used to recognize demand trends, inventory levels and predict possible future interruptions in the supply chain.
Automotive Retail: ChatGPT will have a major impact on automotive retail by empowering car sellers, dealers, and others, to more efficiently and naturally interact with their customers and operate their businesses.
As we continue to discover the potential implications and applications of AI, we will undoubtedly find new and exciting ways to improve and transform processes in the automotive industry.
Let's take a closer look at features and capabilities of ChatGPT and how you can harness this ground-breaking technology to increase dealership operational efficiency, improve your customer experiences, and drive more revenue for your business.
5 Ways Car Dealerships Can Leverage ChatGPT
1. Improve Your Dealership Marketing with ChatGPT
ChatGPT is an excellent enablement tool when it comes to dealership marketing. By asking the AI the right questions, you can utilize ChatGPT to improve your website content, generate new promotions, create new content, and enable your marketing team with creative new concepts. Here are a few questions to try:
"Please generate a list of blog post ideas for my car dealership."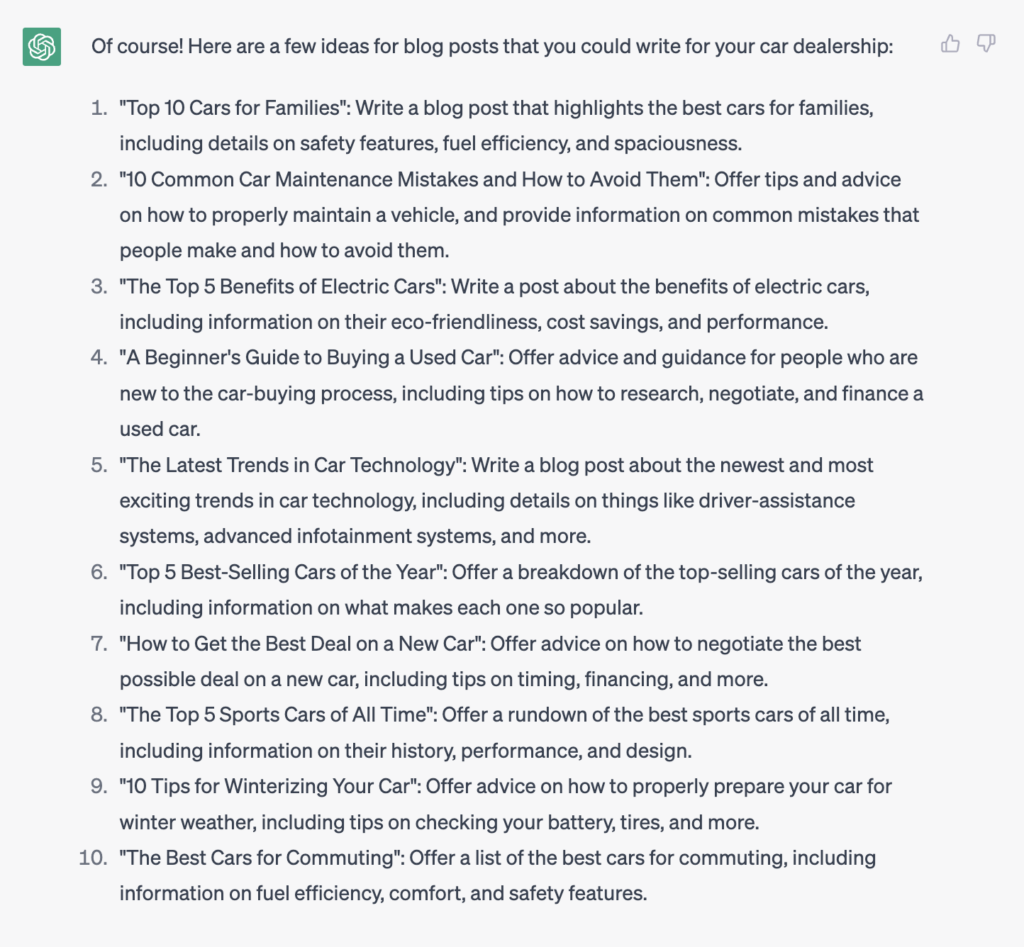 "Please provide a list of recommended pages every car dealership website should have."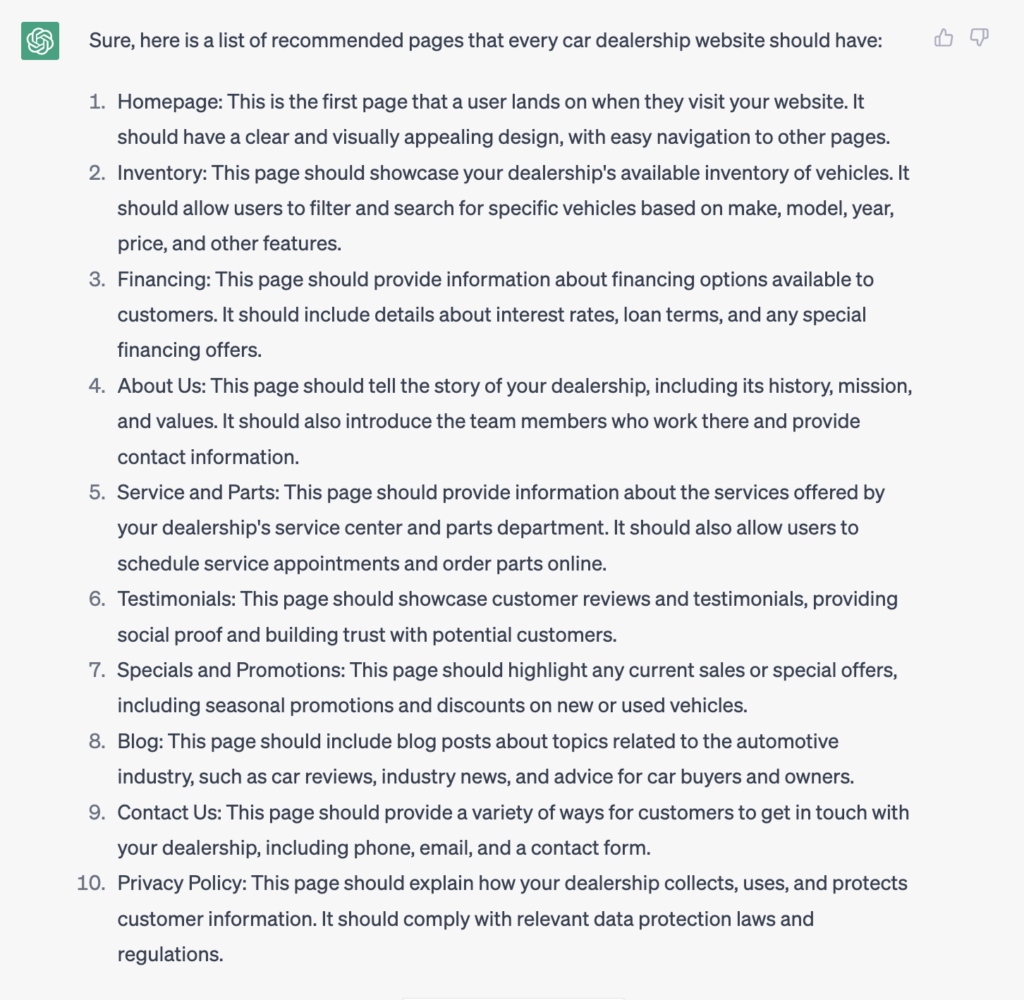 "Can you give me a few ideas of what to post on my car dealership's social media accounts?"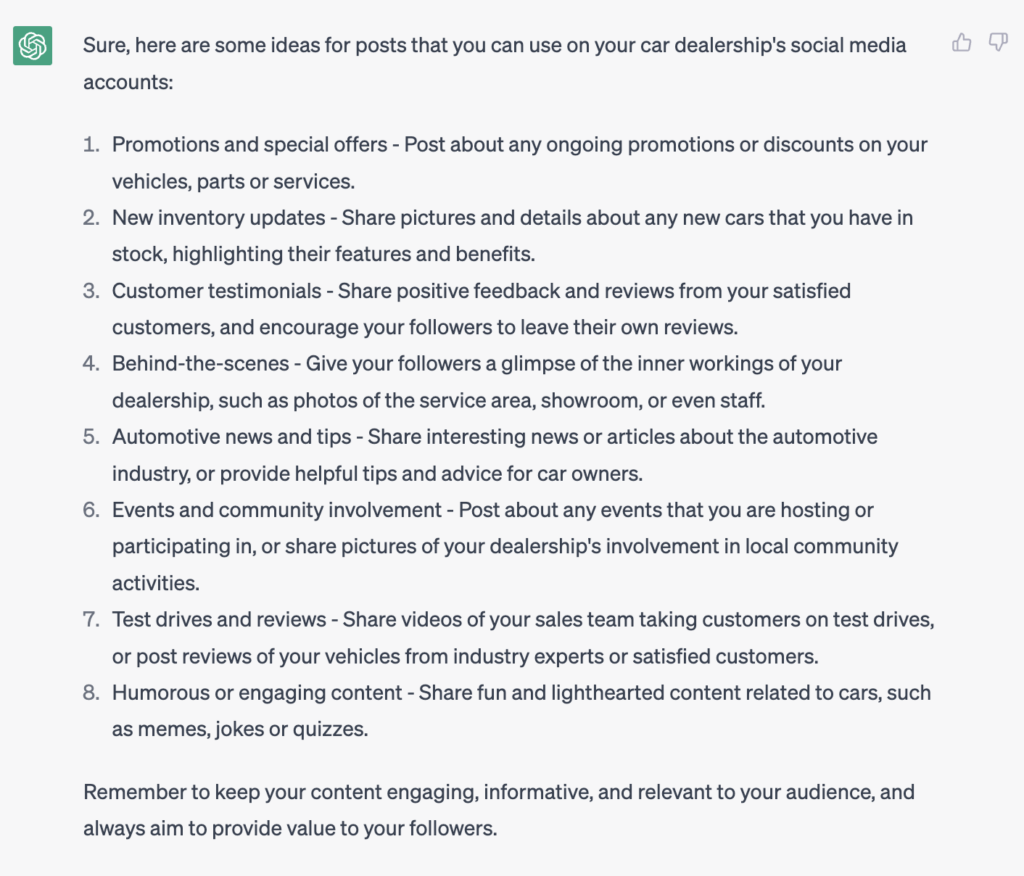 In addition to using the AI to generate content ideas for your car dealership, you can also use ChatGPT to simplify your day to day marketing tasks. You can use the ChatGPT interface to:
Quickly and easily write unique social media captions
Generate full blog posts for your website
Create new email marketing copy and subject lines
Produce video or commercial scripts
Generate ad copy for social and search ads
Improve and optimize your existing website or email copy.
The possibilities are endless – all you need is a little creativity on how you engage with ChatGPT to simplify – and improve – your dealership marketing efforts.
Many dealers use chatbots on their websites to provide immediate answers to basic customer inquiries around the clock. Dealership chatbots, while helpful, are limited in their responses before transferring the customer to a human representative which often takes time leading to customer frustration.
While this technology was once considered revolutionary, ChatGPT takes the chatbot concept to a whole new level. ChatGPT can engage with customers in a conversational manner, providing relevant, direct, human-like answers to incoming questions.
Additionally, ChatGPT can be trained on a specific data set which allows dealerships to instantly provide dealership specific information to incoming questions about particular car models, financing options, booking service appointments, and more, freeing up dealership sales and service employees for more complex tasks. 
As an added bonus, ChatGPT's open AI means you can integrate the technology at any contact point for your dealership including messaging platforms like Facebook Messenger and Whatsapp, allowing you to provide excellent customer experiences wherever they may take place.
3. Automated Customer Feedback
There are several ways ChatGPT can help your dealership gather customer feedback and provide you with detailed insights to help you make better informed marketing, operations and sales decisions for your dealership.
Customer Surveys: ChatGPT can conduct customer surveys by prompting customers with a set of questions related to their experience with your dealership. ChatGPT can then analyze the responses and provide you with insights on areas for improvement or areas where you are excelling.

Social Media Listening: Because of its language processing capabilities, ChatGPT can monitor social media channels such as Twitter, Facebook, and Instagram for mentions of your dealership and analyze the sentiments of these mentions to provide you with insights on how customers perceive your dealership.

Customer Reviews: Similarly to social media listening, ChatGPT can be trained to analyze customer reviews on platforms like Yelp, Google Reviews, and dealership specific platforms. This information can be used to make improvements to your dealership's operations and services.

Integrated Chat Feedback: By integrating ChatGPT into your dealership's website, the AI can gather feedback from customers on their experience with your dealership during chat sessions and provide you with insights on how you can improve your customer experiences.
4. Reduce Operational Costs with ChatGPT
By leveraging the power of ChatGPT, you can reduce your operational costs and improve your bottom line while still providing excellence in service. As we discussed above, ChatGPT can easily and instantly handle a large volume of customer inquiries, reducing your need for customer support agents. ChatGPT can also take on repetitive tasks at your dealership like data entry and appointment scheduling, to help increase efficiency and free up your team for more complex, high-value tasks.
5. Personalize Your Customer Interactions with ChatGPT
Using its learning capabilities, ChatGPT can analyze customer preferences and behavior to provide personalized recommendations such as suggesting car models that align with their needs and budget.

ChatGPT can be trained to prompt customers with a series of questions to better understand their needs and provide recommendations from your dealership to help narrow down their search. The chat can also help the customer get more informed about their financing options so they can make a more informed decision. This can help to streamline the sales process, reduce time spent on financial discussions, and ultimately, increase customer satisfaction. 
Conclusion
Leveraging the conversational AI of ChatGPT can help you automate your dealership's customer support, automatically provide personalized recommendations for your customers, and streamline your dealership's sales processes all while gaining deep, valuable insights into customer behavior and preferences so you can make data backed decisions to improve your dealership operations and grow your revenue.
By embracing the latest advances in AI technology, dealerships can stay ahead of the competition and position themselves for long-term success in the ever-evolving automotive industry.
Fullpath's ChatGPT Integration for Car Dealers
Fullpath's ChatGPT powered chat integration can help take your dealership to the next level and skyrocket your customer experience. If you are ready to see how this incredible technology can transform your dealership's website, click here or email get.started@fullpath.com to speak with our team.
*This blog was written with the help of ChatGPT.
Artificial Intelligence

Customer Experience
Fill out this form to schedule a personalized demo today!
Thank you for your submission!
We just need a few more details so we can personalize your demo.
Sign up for our newsletter!
We value privacy and would never spam you. We will only send you important updates about Fullpath.