Back to Case Studies
Back to Case Studies
How John Elway Chevrolet Skyrocketed Their VDP Views on At-Risk VINs with Fullpath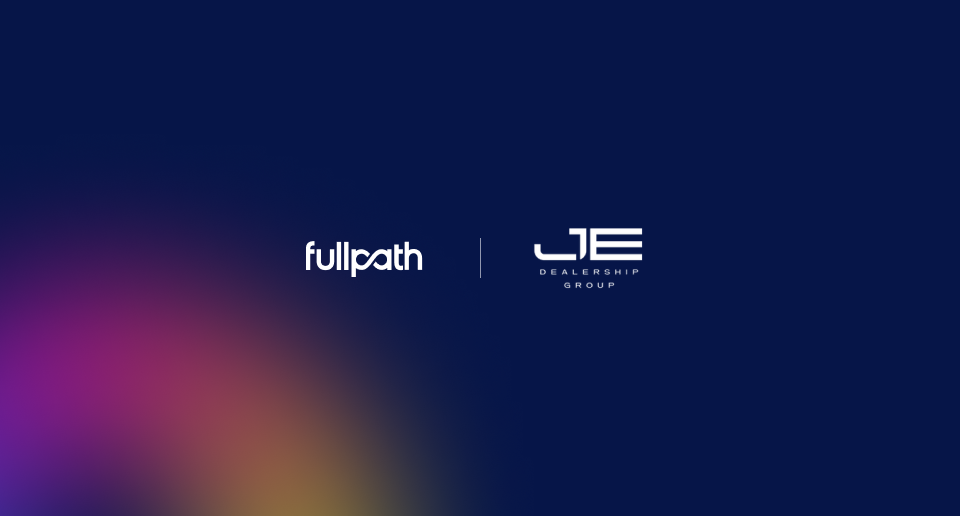 Every dealer has that one list – that list of headache-inducing inventory that just won't move until you are forced to cut your losses and sell the vehicle at auction or at a big loss. Fullpath, in recognition of this universal challenge faced by dealerships everywhere, set out on a mission to create the ultimate insurance policy against at-risk inventory.
The Ultimate Painkiller for Your Inventory Headaches
Fullpath VINs-Acceleration is a unique, AI-powered solution designed to work alongside your dealership's traditional digital marketing strategy, exclusively tackling your most challenging inventory to get it off your lot quickly and efficiently. Fullpath recently released an upgrade to the VINs-Acceleration algorithm that has supercharged it's capabilities, enabling dealers to get a guaranteed number of relevant eyes on their at-risk VINs every month. 
VINs-Acceleration leverages AI-powered email and digital ad campaigns driven by the Fullpath Acquisition Network (FAN) to drive hyper-relevant traffic to select VDPs. FAN is a unique network developed by the Fullpath engineering team, designed to identify and target high quality, shopper-grade traffic on multiple ad networks including Facebook, Google, Amazon, and others, while avoiding the "bottom of the barrel," low quality clicks that usually come from poor display networks. The FAN ensures your at-risk VINs are seen by the right shoppers at the right time so you can stop hemorrhaging money at auction, free up your frozen capital, and hit your revenue goals, all without burning through your marketing budget.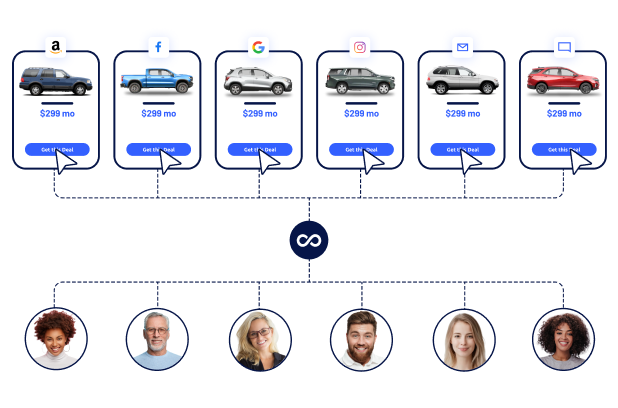 Every VIN at Center Stage
As part of their dealership growth strategy, John Elway Chevrolet set out to find a way to move challenging inventory off their lot quickly without cutting into their profit margins. After implementing Fullpath VINs-Acceleration, the dealership saw an immediate and dramatic improvement in the quality of traffic they were driving to challenging VDPs, skyrocketing their move out rate, all at a reasonable cost.
From July to September 2023, John Elway Chevrolet was able to drive 6,217 quality VDP views to VINs boosted with VINs-Acceleration for under a dollar per view, resulting in an average cost of $78 for each vehicle moved off the lot during that time frame.
In partnering with Fullpath, John Elway Chevrolet achieved a 55% move out rate for lagging with 90% of those VINs receiving VDP views through VINs-Acceleration promotions, saving thousands of dollars that would have otherwise been lost.
A Look Under the Hood
Once a particular VIN is slated for boosting with VINs-Acceleration, the platform leverages AI and the FAN to find and bid on the most quality traffic available to help get that specific vehicle seen and sold.
On August 5th, a VIN was listed with VINs-Acceleration at John Elway Chevrolet, and VINS-Acceleration began driving hyper-relevant traffic to the relevant VDP. On September 2, under one month after VINs-Acceleration began its activities, the vehicle was sold with over 58% of the VDP views on that particular VIN generated by VINs-Acceleration.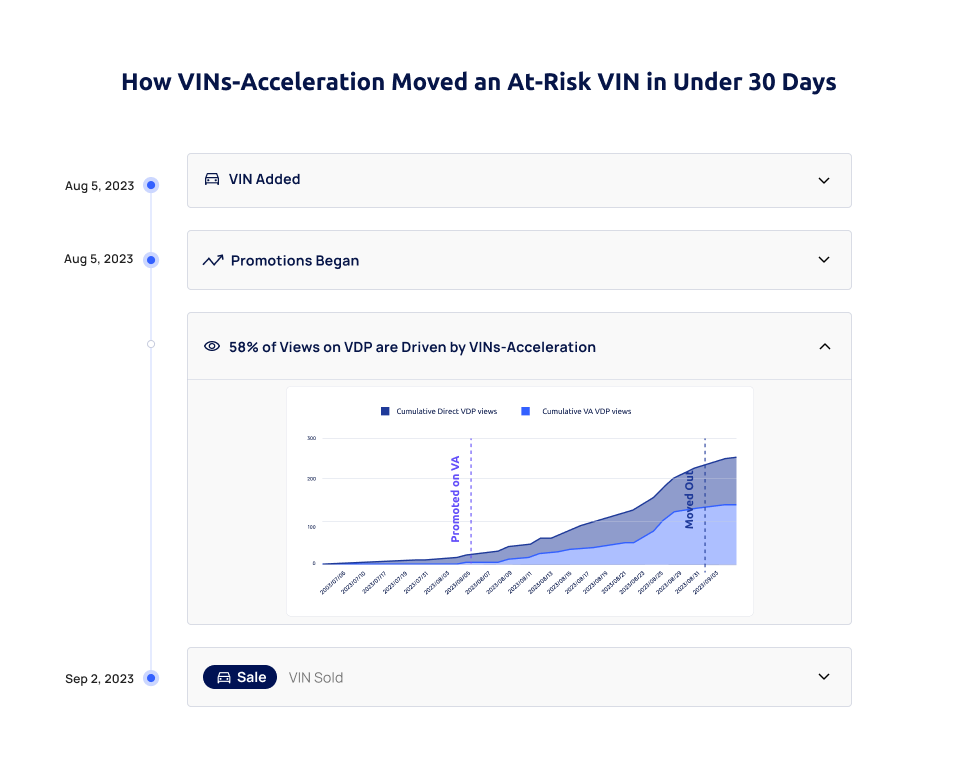 A Match Made With Tech
Fullpath VINs-Acceleration is designed to drive quality, not quantity. What that means is that, rather than receiving a massive influx of irrelevant or useless VDP views, ads created by VINs-Acceleration will target only the most relevant shoppers who are just looking for the right vehicle and the right opportunity to make a purchase. Moving challenging inventory is about finding the perfect customer-vehicle match and creating the opportunity to close the sale.
In September 2023, John Elway Chevrolet leveraged Fullpath VINs-Acceleration to boost several lagging VINs. The Fullpath Acquisition Network worked behind the scenes to target high-quality shoppers with highly personalized and specific ads in order to drive traffic to the selected VDPs.
Mary Milton* was an in-market shopper who was targeted with one of Fullpath's highly targeted and personalized VINs-Acceleration digital ad campaigns promoting a lagging used vehicle that the dealership needed to move out as soon as possible.
On October 8, Mary clicked on the ad which led her directly to the relevant VDP. Mary then submitted a lead form on the boosted VDP which instantly triggered the Fullpath notification system, alerting the sales team at John Elway Chevrolet in real time that significant action had been taken on a promoted VIN. Within minutes, the dealership followed up with Mary and scheduled an appointment for the next day.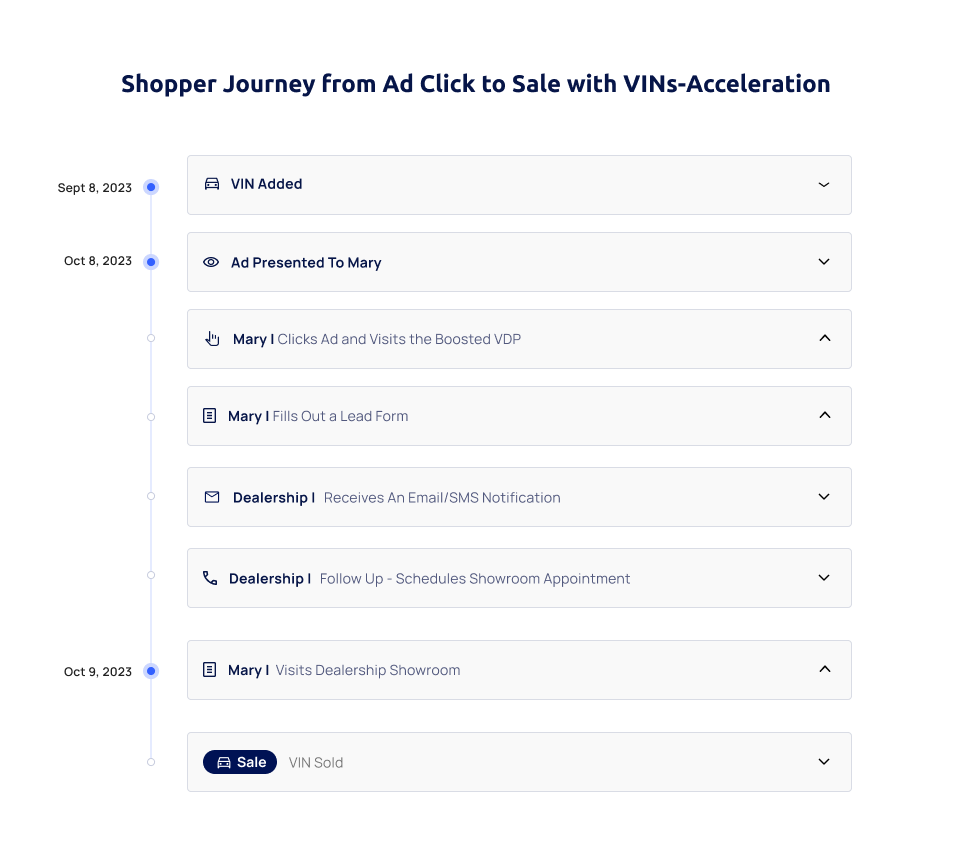 That appointment on October 9th ended with Mary driving off in her perfectly matched vehicle leaving John Elway Chevrolet with one less inventory headache to worry about and more green than red in profit margins.
You can learn more about Fullpath's VINs-Acceleration and how it is helping dealers drive more shopper-quality VDP views every month so they can get their challenging inventory moved off the lot.
*Name has been changed to protect the privacy of the customer in line with Fullpath's data security protocols.
Fill out this form to schedule a personalized demo today!
Thank you for your submission!
We just need a few more details so we can personalize your demo.
Sign up for our newsletter!
We value privacy and would never spam you. We will only send you important updates about Fullpath.